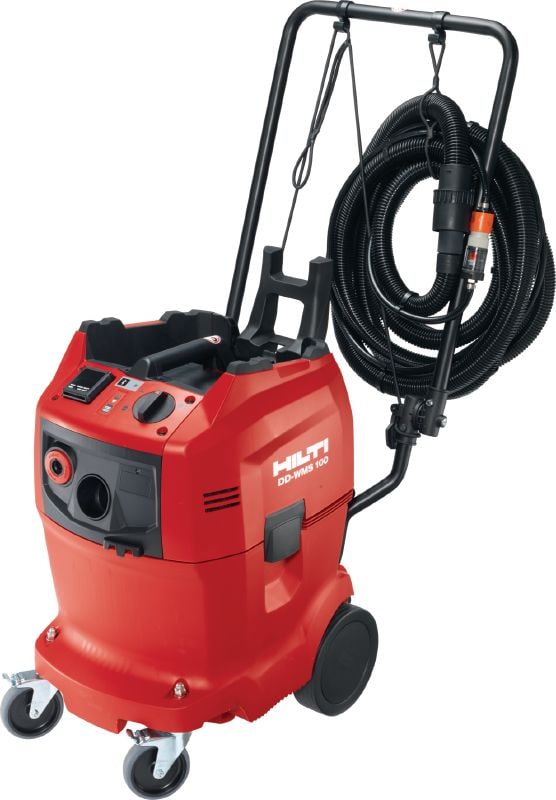 Move cursor over image to zoom.
Click on image to zoom.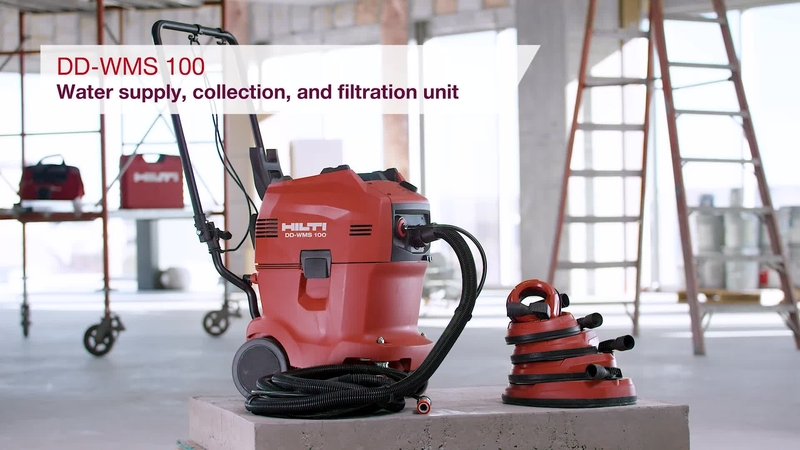 Water Management System DD-WMS 100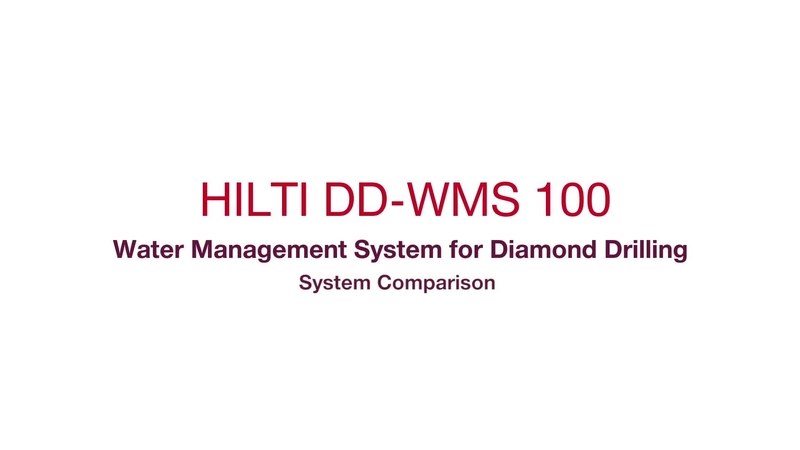 DD_WMS_100_prv_EN
DD-WMS 100 Water management system
New product
Item #r6637919
A single unit for the supply of cooling water as well as the collection and filtration of wastewater from diamond drilling systems
Filling volume: 14 l
Supplied water volume per filling: 100 l
Flow rate: 2 l/min
More technical data
Features & Applications
Features
Keeps jobsites clean – slurry is directed into Hilti water collection systems
Provides up to one full day of water autonomy for wet diamond coring applications
Virtually maintenance-free
Easy disposal process – all the slurry is collected in the filter bag
One filter bag recycles wastewater up to 7 times; equal to 100 liters of water
Applications
Suitable for all wet diamond coring applications
Works with all Hilti diamond coring tools
Operates in 3 modes – recycling, vacuum cleaning and water supply
DD-WMS 100 Water management system
40% faster core drilling with the DD-WMS 100 and a Hilti concrete core drill
The DD-WMS 100 diamond drilling water management system provides up to one full day of water autonomy by recycling the water up to 7 times, the equivalent of about 30 gallons of continuous water supply.
Most of the slurry is collected with the Hilti water management system, keeping the jobsite clean and saving you precious time during wet diamond coring applications.
This is on-demand concrete core drilling
The big advantage of empowering your trade experts to handle their own concrete coring is that a project rarely gets stuck waiting around for an outside coring team to get called in, travel to the site, do the work, and then clean-up - sometimes just for one or two holes.

Designed for non-specialists to use easily and accurately
Hilti has figured out how to make concrete core drilling easy for people who aren't coring full-time.  We did this by identifying the major problems of water management, tool mobility, and clean up and devising solutions that make operation simple, intuitive and fast.
Turns a multiple person job into a one person job
From the setup to cleanup, one person is all it takes.  Because it is easy to manuver and self-contained, Hilti's diamond concrete core drilling system eliminates the need for multiple people to be involved in coring work.  This can reduce the labor from an average of three people to just one.
It's the fastest way to core in the industry, from start to finish
Speed is a natural companion to productivity.  Not only can one person do an entire coring job solo, the time it takes them to setup, drill, cleanup is typically 40% faster than the next best alternative.
Pays for itself in just two or three jobs
No tricks or complicated math required:  The upfront investment of the system pays for itself very quickly when compared to costs for outsourcing coring and waiting for work to be done.
Easy Slurry disposal
Once the filter is full and suction power begins to drop off, it's extremely easy to remove the slurry with the disposable filter bags.