Firestop Documentation Management
Document compliance with complete confidence.
Whether you are more concerned about installing fire-retardant materials or about documenting compliance with fire-protection standards, Hilti firestop specialists and independent Hilti accredited firestop specialty contractors can help you do both more efficiently.
We give you more ways to approach firestop protection engineering decisions with support from our Firestop Design Center, Firestop Submittal Generator and Engineering Judgments. But whichever process you ultimately choose or whatever products you select, Hilti Firestop Documentation Management Software CFS-DM helps you simplify the process of keeping all aspects of your job under control and up to date.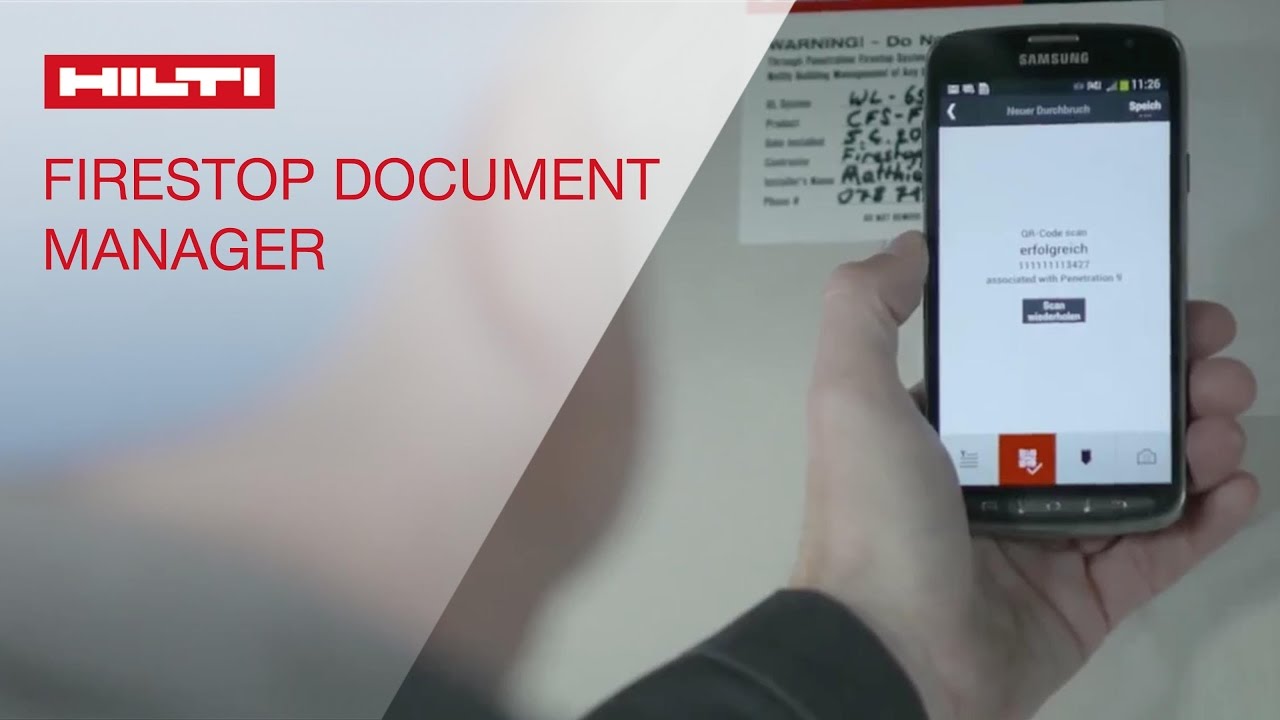 Three steps to thorough firestop documentation.
Hilti Firestop Documentation Management Software CFS-DM gives you a way to document, manage and report compliance at every penetration throughout your building. It means you can plan, record and archive every step of the process online—from back-office planning to on-site inspections.
Define your project. Identify and track each structural penetration that requires firestop protection, complete with technical documents and 2-D plans.
Record each penetration. Use a mobile device—smartphone or tablet—and our intuitive app to record each penetration installation, complete with its label and QR code documenting penetration details.
Publish a complete report. Create standard or customized reports at any stage of a project—in progress or complete—to document the status of all recorded penetrations while you maintain a complete database for future reference.
Bringing added efficiency to fire protection engineering projects
Ensure clear and efficient installation planning
Give every team member—architect, planner, installer, etc.—a comprehensive, up-to-date view of your project with the multiuser capabilities of Hilti Firestop Documentation Management Software CFS-DM. Assign the attributes for each penetration from the comfort of your office—such as building location, product use tested system, installer responsibility, etc.—and communicate to all parties involved.
Identify every installation

Use unique QR codes on unique labels installed at each physical penetration to identify penetration characteristics and location and to make data collection and confirmation as easy as scanning with a handheld mobile device (i.e. smartphone or tablet).
Report project status at any point

Because the web-based Hilti Firestop Documentation Management Software CFS-DM system records updated information transmitted from the installation site, you can produce up-to-the-minute standard or customized reports of project status on a moment's notice.
Maintain location-specific control

With online access, overall project as well as individual penetration status can be accessed by any approved user in any office or anywhere in the field.
Keep compliance up to date

With uniquely labeled penetration locations and the ability to update firestop attributes remotely through app-enabled mobile devices, building managers can ensure current firestop protection records are always at hand, even after cabling changes are made in the field.
Adopting a comprehensive solution for firestop documentation and management is as easy as downloading our free app:
Download the free app from iTunes or Google Play
Click here for a free 30-day trial period or call 800-363-4458 for full enrollment
Receive a welcome email with a username and password
Create a project and start documenting
System Requirements
Access Hilti's CFS-DM web application through the internet using a standard browser including Microsoft Internet Explorer, Google Chrome and Mozilla Firefox
Use this mobile application on devices running Apple iOS 6 or higher (Apple iPhone or iPad), Android 2.3 or higher or the new Samsung Galaxy camera.