FIRESTOP CABLE DISC
A big help for smaller firestop jobs.
The key to efficient, reliable and thorough fire protection engineering often lies in the details. Although it's easy to downplay the significance of smaller, isolated penetrations, don't underestimate their collective impact on the total installation time and cost of your entire fire protection systems budget.
That's why Hilti firestop specialists consider all aspects of advanced fire protection, down to a single cable penetration. The results are amazing and amazingly simple to install. Hilti's self-adhesive Firestop Cable Discs provide a peel-and-stick solution that accommodates cables, bundles and tubing up to 1" in diameter—and installs in as little as 10 seconds to help ensure that little things don't become a big drain on your fire protection budget.
Firestop reliability doesn't get any easier than this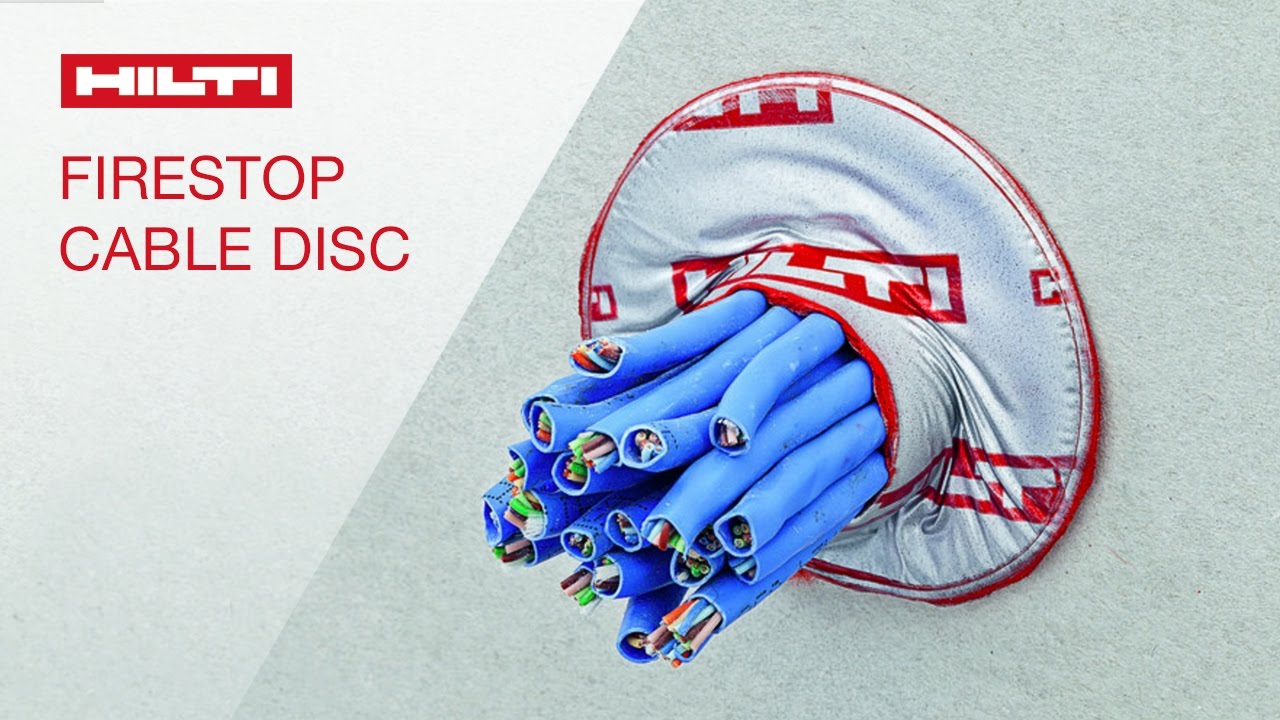 Adapt our flexible format to your unique needs
Reliable firestop protection and installation convenience are built into the design of these flexible, self-adhesive discs that seal multiple types of wall and floor penetrations in seconds.
Sealant-free format is easy to install
Enables proper installation in less than 10 seconds
Surface mounted solution does not require backfill

Suitable for single cables, cable bundles and blank openings with new or existing cable installations

Seals regular and irregular openings

Allows up to 100 percent fill with cable bundle

24-month shelf life

Experience reliable convenience across multiple materials
With Hilti Firestop Cable Discs, you'll experience the same convenient installation and reliable protection across multiple types of construction.
Drywall (membrane penetrations, through penetrations)
Concrete
Masonry
Wood
Satisfy multiple penetration solutions
The flexibility of the Hilti Firestop Cable Disc adapts to multiple cable formats up to 1" in diameter.
Low-voltage (telephone, Ethernet, fiber optic, coax)
Low-voltage bundles (up to 100% fill)
Mid-voltage (Romex, metal-clad, power cables)
Conduit and tubing (copper, steel, cast-iron, PE)
Implement common UL solutions quickly
Simplify your specification process, and increase your confidence, with easy access to a variety of documented UL solutions.

Through penetration for drywall walls (W-L-3414)
Membrane penetration for drywall walls (W-L-3415)
Through penetration for wood floors (F-C-3110)
Through penetration for concrete (W-J-3215)
Click here to find more UL Systems for the Firestop Cable Disc